Your Contact Information
.NU registry requires state that the Domain Holder provide the following information:
Full Company name and contact person or, if acting as a private individual, your complete first name and surname
For Swedish organizations or individuals, your Corporate identity number or personal identification number (personnummer). For those other than Swedish Domain Holders, any other unique identification information can be provided in this field.
Postal address
Phone number
e-mail address
The information must be complete and correct and will be verified. Information provided with the intention to shield the identity can be considered as incorrect and your domain may be deregistered.
Your Privacy is Assured
Due to extremely strong european privacy laws, all personal information remains completely private from whois lookups etc. and is not available to the general public nor is it shared in any way with any parties. Your complete privacy is assured and protected.
You agree that you are obliged to continually and without delay inform us of any changes in the information given in the application, including change of e-mail address.
That is for your protection and keeps your domain safe. It assures that you remain the legal owner of the domain name at all times and that we are able to contact you regarding your domain name and associated services.
We strongly recommend that you provide an email address for your account that is not at your domain name. That way we will still be able to contact you and you will still be able to access your account should your domain suffer from an unplanned technical outage.
Updating Your Contact Information
To update your contact information first log in to your client area:


Then go to Your info -> Update or use this direct link — this will take you to a page with the following form. Please enter your complete details as described above: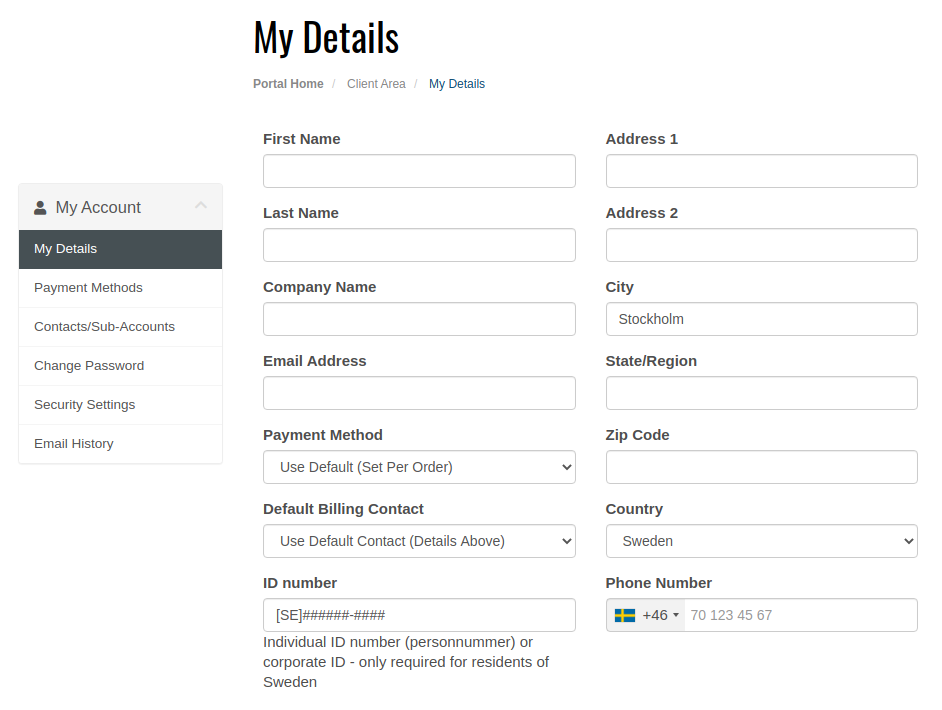 Be sure to "Save Changes" after entering your data and before leaving the page: